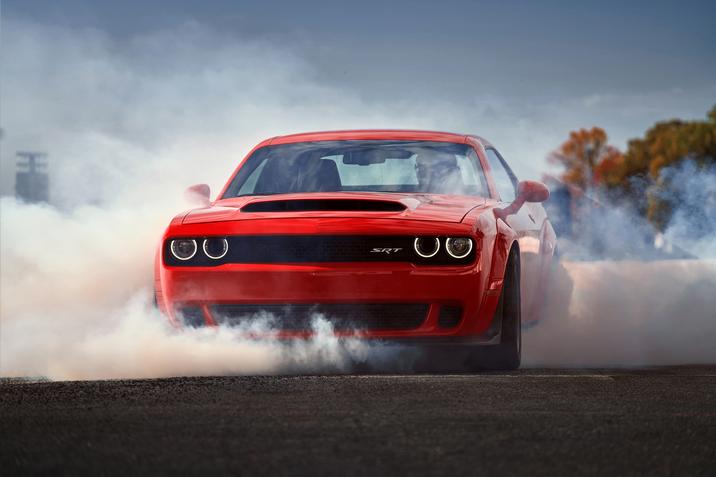 Ron Carter Chrysler Jeep® Dodge of League City is proud to be a Dodge dealership serving League City, TX, and we're also proud of our inventory of
new Dodge cars
. We're also looking forward to featuring the 2018 Dodge Challenger SRT Demon in our showroom.
When the 2017 Dodge Challenger Hellcat SRT was revealed last year, it was noted for its V-8 engine capable of generating 707 horsepower and 650 lb-ft of torque. Designed for drag racing but marketed as a production car, the 2018 Dodge Challenger SRT Demon has a powertrain which includes a supercharged 6.2-liter HEMI® V8 engine mated to a TorqueFlite eight-speed automatic transmission. This Dodge Challenger trim level can generate up to 840 horsepower and 770 lb-ft of torque, and capable of moving from 0 to 60 mph in just under three seconds.
Due to be released to dealerships this fall, this Dodge muscle car will be a limited edition, with only 3000 models produced. Buyers of the 2018 Dodge Challenger SRT Demon will receive a free day of driver training at the Bob Bondurant School of High-Performance Driving. Features in the 2018 Dodge Challenger SRT Demon include a trans brake and a special liquid-to-air intercooler system that diverts cold air from the air-conditioner and an After-Run Chiller that cools the supercharger after turning off the engine.
Doesn't this sound like a really cool car? If you're curious and want to check out our showroom of new Dodge cars, visit our Dodge dealership. We're located at
3535 Gulf Fwy S
in Dickinson, TX, and our staff is ready to help you. If you're a Dodge driver in League City, TX, why not check us out? You'll be glad you did!